TURKISH VAN CAT CLUB
Seventh Championship Show - 3 October 2009
at Bracknell Sports & Leisure Centre, Bracknell, Berkshire
Once again the Turkish Van Cat Club Show was held in Bracknell in the same venue as the Long Haired and Semi-Longhair Cat Club. This year- with a different Show Manager Mrs Kathy Wilkinson. Holding 2 smaller shows at the same venue, helps reduce hall and running costs.

There was an entry of 22 cats and kittens in competition, with 4 cats on exhibition
Overall Best In Show Exhibit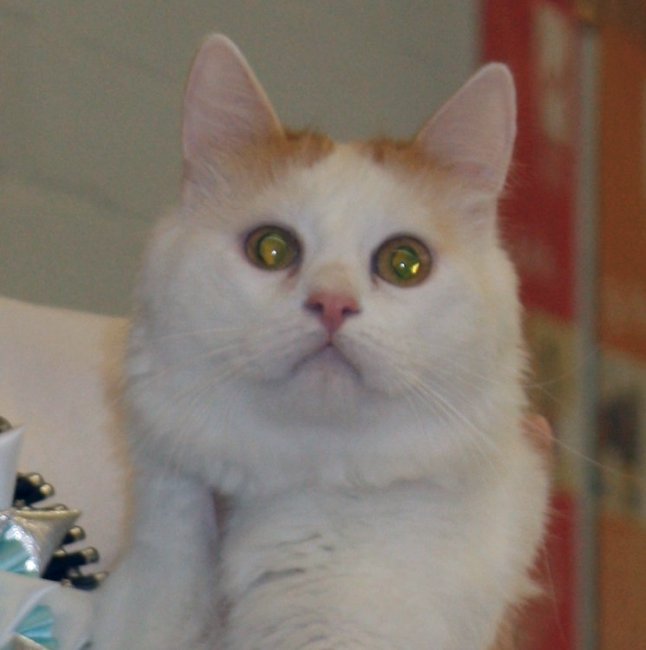 YENICIZGI IZAMBARD HEDIYE (13d)
Owned by Mrs M & Mr J Lombard: breed by Miss M Upham
| | |
| --- | --- |
| | |
| | The Best in Show results for 2009 were: |
BIS Turkish Van Male Adult & BIS Adult
YENICIZGI IZAMBARD HEDIYE
13d - Auburn Turkish Van, Amber-eyed
owned by Mrs M & Mr J Lombard
BIS Turkish Van Female Adult
YENICIZGI LADYOFTHELAKE
13d7 - Cream Turkish Van, Amber-eyed
owner/breeder Miss M Upham
BIS Turkish Van Male Kitten
IZAMBARD SECILMIS OLAN
13d - Auburn Turkish Van, Amber-eyed
owned & bred by Mrs M & Mr J Lombard
BIS Turkish Van Female Kitten & BIS Kitten
SHADYCOMBE VANGUARDS HOPE
13d - Auburn Turkish Van, Amber-eyed
owned by Mrs K Guidera, bred by Mrs N Goulter
BIS Turkish Turkish Vankedisi

(TICA) Supreme Grand Champion
TANSDALE INDIGO MOON

13wbl - Turkish Vankedisi, Blue eyed

owned and bred by Mrs S & Mr S Lloyd

BIS Non Pedigree Neuter
MANDU
SH Caramel Tabby MN
owned by Mrs L Vousden

BIS Pedigree Pet Kitten
MJ
SH Black M
owned by Ms S Nichols
The enthusiastic committee organised a huge raffle and there were lots of new things to buy; teeshirts, delightful kitten calendars, Turkish Van watches and much more.
Show photos Barrie Tackley